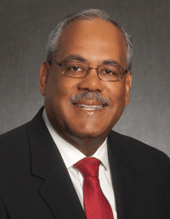 Howard Gentry serves the Metropolitan Government of Nashville as the Criminal Court Clerk of Davidson County in the Twentieth Judicial District. In this capacity, his office is responsible for performing the clerical duties (hard copy and electronic forms) for the operation of the General Sessions and State Trial Criminal Courts.
He was appointed Criminal Court Clerk in 2011 and reelected, without opposition, in 2012. Under his administration, an employee policy handbook was instituted; the office website was redesigned for greater public-at-large access to criminal records (case information, dockets & reporting, map crime viewing and arrest data); an assertive outreach was established to help individuals who qualify for expunged cases; and, an aggressive approach has been established to collect fines and costs.
A Nashville native, Gentry was elected three times to countywide public office. He was a Metro Council member-at-large before being elected Metro Nashville-Davidson County's first African American vice mayor. He was re-elected in 2003. In 2007, Gentry was a candidate for Mayor and narrowly missed the run-off by less than 300 votes. He received his B.S. and master's degrees in education from Tennessee State University.
Civic Engagements

State of Tennessee Prayer Breakfast Committee (past chair), Metropolitan Homelessness Commission (founding chair), 100 Black Men of Middle Tennessee, Nashville's Agenda, Nashville Alliance for Public Education, Music City Bowl, Nashville Sports Council, Metropolitan Social Services Commission (former chair), Nashville Poverty Reduction Council (founding chair), NAACP, Leadership Nashville and United4hope (chair).
Board Affiliations
State of Tennessee Sports Hall of Fame (past president), Nashville Public Television, Arts and Business Council, Fisk University, Boy Scouts of America Nashboro District (chair), Frist Center for the Visual Arts, Operation Andrew and Key Alliance.
Mayoral Appointments
Communities Putting Prevention to Work Leadership Team, Advisory Council for Adult Literacy, Advisory Council on Early Childhood Development and Early Education, and Advisory Group on Sustainable Healthcare Services to Underserved and Indigent Citizens.